Google Launches Updates Page For Website Managers?
Google updates its algorithm frequently. At times, they announce the major updates beforehand, at other times they inform after initiating one. The last update was rolled out on May 25th. To learn about such updates, we had to wait for tweets & official answers from the team.
Google thought of improving this process and has created a dedicated Google Search ranking updates page. With the help of this page, you can check all the latest and previous updates easily.
8 Tips For Optimizing Your E-Commerce Website
Tip 1: Make sure you have the technical basics in place – You need to ensure your URLs and internal
links are friendly to crawlers. Check out Designing a URL structure for E-Commerce Websites on
Google Search Central for advice on how to design URLs for your website.
Tip 2: Create content relevant to users at different stages in their shopping journey – To check the
breadth and quality of your site, think about likely searches by shoppers at different stages in their
shopping journey. Once you have a set of queries, try them out.
Does your site come up well-positioned? What about your competitors?
Tip 3: Be sure to mark up your product variant pages correctly – Product variants are when you have
multiple colors or sizes of the same product. Informing Google of the relationship between the
product pages can help Google better understand your site content. The URL Inspection tool can
also be used to check the status of individual pages.
Tip 4: For sales events that occur regularly, use the same URL across all event occurrences – This can
help Google understand and trust the purpose of such pages. To identify problems, check the URL for
promotional event pages on your site.
Tip 5: The "performance" of your web pages matters – Performance is important to users, as a page
that takes too long to load may be abandoned by them. It is also an important Google ranking
signal. It can be particularly important if you use the same supplier-provided product description as
other sellers online. The PageSpeed Insights report is useful for checking the performance of the web
page.
Tip 6: Wait for it – Be patient to see the results. SEO is a long-term strategy. Some ranking signals
may take months to change. There is no guarantee of success. While it may take months to
reap the benefits of a content creation strategy, it does not mean there is nothing you can do until
then.
Tip 7: Seek professional help for your website – If you have done your best to improve your site but are
still not getting the results you want, GREENstick is here to provide expert SEO advice.
Tip 8: It's all about the user – The ultimate goal for Google Search is to put the best possible content in
front of the users. Algorithms change over time, but the ultimate goal does not. It does not mean you
should not measure your site's performance. It is still recommended to use tools such as Google
Search Console and Google Analytics to collect data on your site.
What Is On-Page And Off-Page SEO?
On-page SEO
On-page SEO refers to techniques used on a webpage to ensure it will rank on a search engine results page. This also affects how well a page ranks.
Here's how to accomplish this :
Hx Tag Optimizations
Image Alt Optimizations
Internal Linking Optimizations
Schema & Canonical Set up
Google & Bing Search Console
Sitemap
Heatmap Code Setup
Off-Page SEO
Refers to actions taken outside of a website to impact rankings within search engine results pages (SERPs) such as backlinks. Link building isn't an easy task, but here are some strategies:
Local citations
Backlinks from press releases
Guest blogging backlinks
Social bookmarking
Premium directory links
Video Sharing
Backlinks and types of Backlinks we do
A backlink is a link created when one website links to another. Backlinks are also called "inbound links" or "incoming links." When you get down to it, there are only two types of backlinks: dofollow and nofollow. A person reading a web page will never see the difference between a dofollow and a nofollow backlink. The difference is in the source code. There's a specific tag in the source code that determines how Google and the other search engines view the backlink, which also determines the effect of that backlink on your SEO profile.
dofollow Backlinks: Dofollow backlinks are the most common and valuable type of backlink for SEO. When you put a dofollow link on your website, you're telling Google that the link is organic — as in, the target website didn't buy the link—and that you're vouching for the accuracy of the content at the other end of that link.
nofollow Backlinks: Nofollow backlinks are less common. They're also less valuable. They're used to tell search engines to ignore a particular link. The percentage of dofollow versus nofollow links that a website has will vary. Google wants to see a good mix of both for a healthy link profile. The biggest difference between these two types of links is that Google places a lot of value on dofollow links — which means they're great for SEO. Nofollow links, on the other hand, are ignored by Google's algorithm in most cases. That means they're rarely valuable for SEO. Surprisingly, nofollow backlinks do provide some SEO value.
Backlinks Portfolio we Build [based on the plan]
Backlinks in business profiles | Local Citations or Listings: Creating digital profiles for your brand on business listing sites, social media, industry directories, and review sites most often comes with the opportunity to post a backlink (or a few). Search engines view these entries as evidence that a site is well established
Backlinks derived from press releases (on topics worthy of media interest) | Press Releases: When your brand has a newsworthy announcement to make, putting out a press release can serve as a foundation for your PR and marketing tactics, while also producing backlinks from publications that cover the announcement and the published release itself.
Guest blogging backlinks | Guest Post Submissions: When providing well-established sites with guest posts, it's often possible to include an editorial backlink to your own site. Practicing guest blogging outreach to solicit valuable sites for these opportunities should be a key piece of just about any SEO strategy.
Website Bookmark | Social Bookmarking: Social bookmarking is an online service which allows users to add, annotate, edit, and share bookmarks of web documents. Social bookmarking is a way for people to store, organize, search, and manage "bookmarks" of web pages. Users save links to web pages that they like or want to share, using a social bookmarking site to store these links.
Directory links | Premium Directories: Creating profiles in directories that are trustworthy and respected. Directory links refer to links that originate in a web directory – also called link directories – that act as list or catalogs of websites.
Video Sharing | Video Submission: Videos are viral in nature and can really help you in acquiring quality backlinks. Anyway, once you submit your videos to these sites, you can also get a backlink from your video to your website. Video Submission is a process of submitting videos in video submission sites to get quality backlinks. Also, Video submission sites are very effective for increasing brand awareness as well as promoting a brand.
GOOGLE BUSINESS PROFILE NOW HAS AN ADDRESS TOGGLE 
Google renamed Google My Business to Google Business Profile last year while also rolling out more support for managing a business profile. Going a step further, the search engine giant has now launched another feature that is bound to give small businesses operating out of homes a reason to be happy. Google Business Profile now features a toggle that will allow businesses to hide their business address from customers if they wish to do so.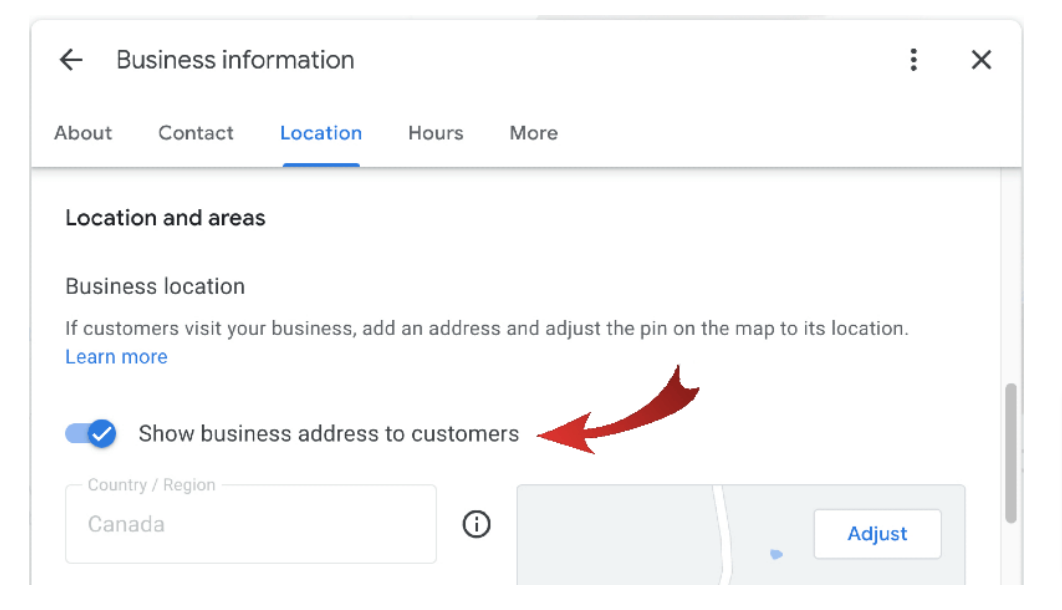 The snippet above shows how the business can now toggle 'Show Business Address To Customers' on or off.
This recently launched support feature is perfect for entrepreneurs or small business owners operating a virtual business from home and is not tied to a physical office/store-front location. It can also be helpful for new business developments under construction with a pending grand opening date.