Listing Builder Overview
Be found online before your competitors. Listings in Reputation Management gathers all the locations on the web where your business listing can be found: major search engines, local review sites, online business directories, and social networks. This feature allows you to see where the business is listed, detect and fix any errors or add new listings.
The Primary Listings tab allows your business to:
Review your Listing Score and compare it to the industry average and across different regions
Monitor your business's online listings for accuracy and to detect possible errors or missing listings
Navigate to the appropriate source to view or edit that listing
Refresh the listing to refresh with the most up to date changes
Choose to Mark this listing as correct to ignore false errors
Verify as the only listing for source to mark the listing as correct and stop the system from fetching other results
Remove this match if the listing pulled in does not belong to their business

The Listing Score is an evaluation of your business's accurate Primary Listings and Citations. Each listing source is assigned a score based on how popular the site is.
For example, having an accurate listing on a popular site like Google Maps will greatly influence your Listing Score.
How To Increase Your Listing Score:
Verify your listings
Fix any found errors in the Primary Listings tab
Create new listings and citations
How To Verify Your Listings:
Go Settings > Listings and check that the listing sources relevant to your business have been selected.
Go to the Primary Listings page and review all of the listings found for your business. Here you can check for potential errors and edit the listing if needed.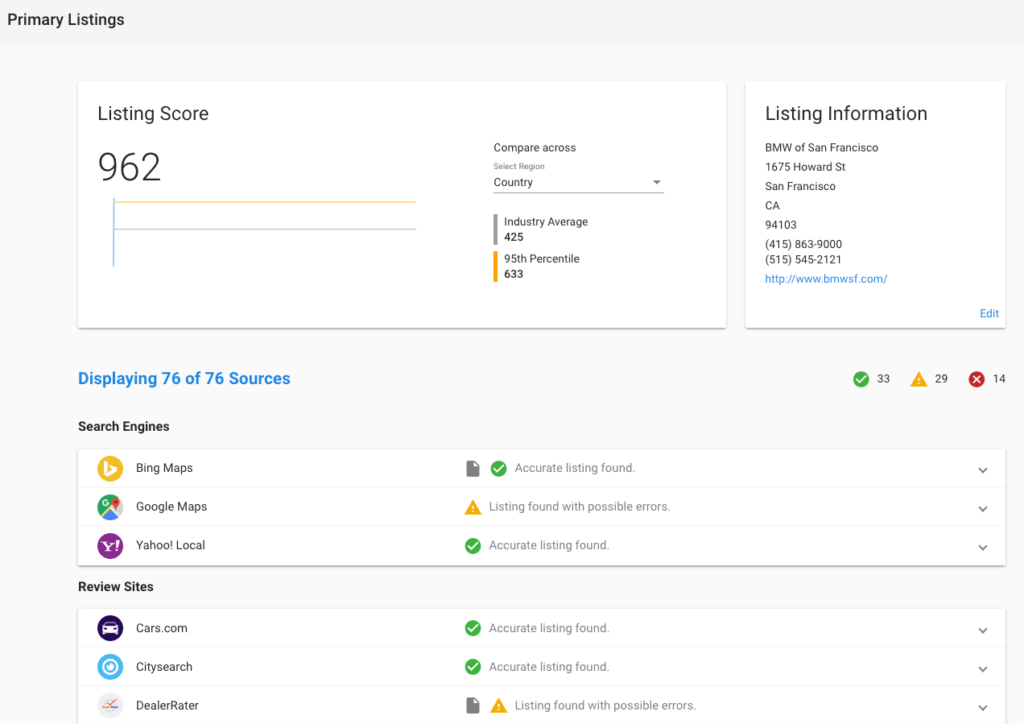 Showing when a listing is potentially missing (Reputation Management and Multi-Location Business App)
Beside listings in Reputation Management > Listings and Multi-Location Business App > Listings, you may see a small badge indicating that the listing is 'Potentially Missing.' This will be shown when a listing can no longer be found, and it is suspected that it was removed or is otherwise missing from the source.
What should your client do? Click View to confirm that the listing is missing. If it is missing, click Remove listing.
This will alert you if a listing was removed on the source so, once a new listing is created, it can be properly monitored once again.
How does Listing Distribution work?
Listing Distribution submits your business information to the main data aggregators:
Neustar Localeze
Data Axle
Foursquare
Over time, hundreds of sources will reference these aggregators to collect business data and create accurate listings based on your submitted information. This includes search engines, navigation systems, voice search, mobile apps, and even offline sources like telephone books and government records.
When multiple sources have consistent business data, two outcomes occur:
Search engine crawlers, like Google's WebCrawler, finds the same information in multiple places and adds more confidence to their business data
Good backlinks are created with more referring sources to the business' website creating better SEO.
What is a data aggregator?
Data aggregators gather consumer and business data and provide it to hundreds of listing directories, review sites, search engines, and more. They also power sophisticated modern applications such as Apple's Siri and personal navigation systems.
How often can I make changes to my business profile?
You can update your business profile as much as you want while your Listing Distribution subscription is active. There's no limit on the number of changes you can make.
How often are listings sent to the data aggregators?
When a listing is created or modified in our system, the information is sent within 24 hours. The data aggregators receive this data and provide us with confirmation within 6-8 weeks.
We also resubmit your listing data once every week to ensure that aggregators always have the most accurate version of your listing.
What if a business has duplicate listings — how does Listing Distribution take care of those?
We submit the listing to the data aggregators, and the aggregators have their own process to eliminate duplicate listings.
How long does Listing Distribution take?
As soon as you enter your business information, we push it to the data aggregators. It can take 6-8 weeks for them to receive the information and ensure it is correct in their own databases. It is then up to the sites and sources to update their information from the data aggregators. They each query them at various intervals—some seek out the information weekly, monthly, etc. Therefore, the timeline for when a source picks up that information will vary greatly depending on their process for updating their data.
Why is Listing Distribution a yearly subscription?
Listing Distribution is a continual process that maintains and builds your web presence over time. Once the data aggregators have your correct business information, the rate at which sites reference this information varies. To ensure the widest span of information and amount of listings created, Listing Distribution needs to be activated for an extended period of time.
Even if your business information is correct, listings can be eroded over time by user-generated content and other incorrect data. As long as your subscription is active, Listing Distribution refreshes your information with the data aggregators every week. Without this, there is a risk of allowing the current public data to change all of the value already established.
Where do listings come from, anyway?
Online directories get business information from a huge number of sources, including:
Business owners enter their own information
Government sources
User-generated content (UGC)
Google sources (MapMaker, Places, etc)
Data aggregators
However, the most importantly weighted information in the U.S. comes from the major data aggregators.
More Questions? We have more answers! Get in touch with us today.