Google is launching a slew of new enhancements for local businesses in time for the busy holiday shopping season.
The additional features are being introduced as part of the search engine's rebranding of Google My Business (GMB) to Google Business Profile (GBP).
Small and medium businesses (SMB) can now claim and verify their GBP directly via Google Search or the Google Maps app.
GMB will be phased out in 2022. However, its web experience will change to primarily support big businesses with multiple locations and be renamed to Google Business Profile Manager.
The update was announced last week by Google Vice President and General Manager of Merchants Matt Madrigal.
What does this mean for your small business?
The key impact for SMBs is to immediately cease using GMB to add, update or verify online business information.
"Moving forward, we recommend SMBs manage their profiles directly on Search or Maps," Madrigal said. "Once your business is verified, you can edit your business' information, including the address, store hours, photos, and more."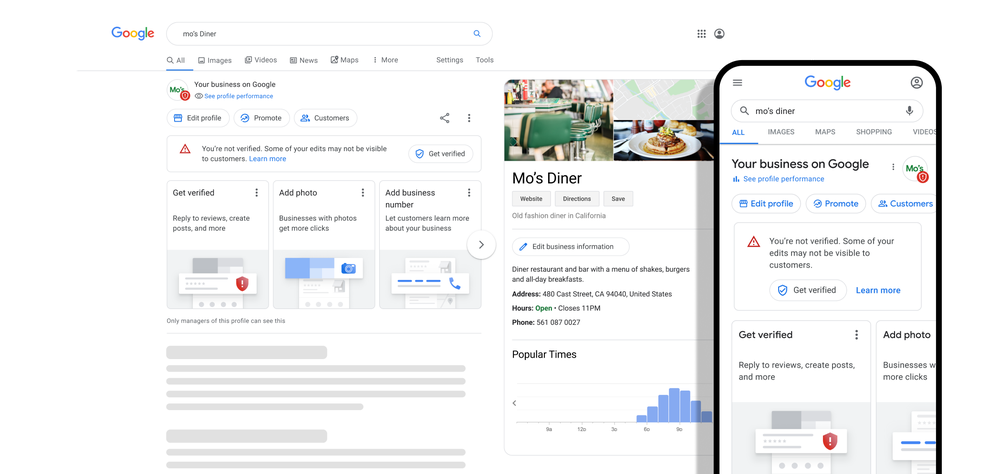 An example of a Business Profile being accessed via search
Outside of branding, the web interface of GBP won't change much from how it appeared when it was known as GMB. But in the coming months, Google has flagged it will integrate old GMB web interface functions directly into Search and Maps both within desktop and mobile.
What are the new features?
Google's new features are designed to make it easier for local businesses to connect with customers and enable shoppers to conveniently find products they want.
Access to messaging and call history
As a start, local businesses can now message customers directly from Search, and merchants in the United States and Canada can use call history to see which inbound customer calls came from people who tapped the phone icon or call button on a local store's Business Profile.
When a customer uses the call button on a Business Profile, their calls show up under the "Calls" tab in GBP (see image below). From this tab, a business owner can find recent calls, missed calls, and more.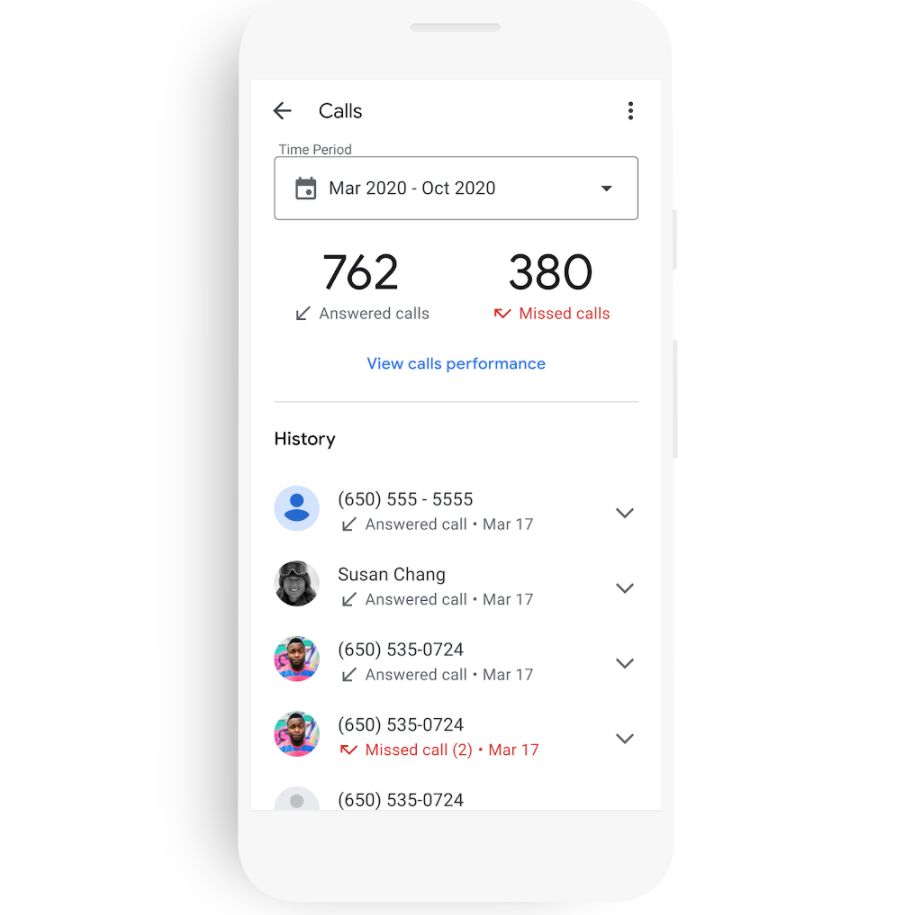 Once call history is enabled, customers connect to local businesses through a forwarding number instead of through the number on their GBP.
Learn how to enable call history here.
Ability to display local inventory status in Search
Google is expecting online shopping behaviors to evolve further during the coming holiday season. A recent Google survey indicated more than half of U.S. holiday shoppers will attempt to confirm online that an item from a local business is in stock before going to buy it.
Google has also noticed searches that include the keyword "in stock" have surged over 800 percent year over year.
Given these trends, Madrigal encouraged local businesses to take advantage of the new "in stock" filter on Search so shoppers can see only nearby stores that have the item they are looking for.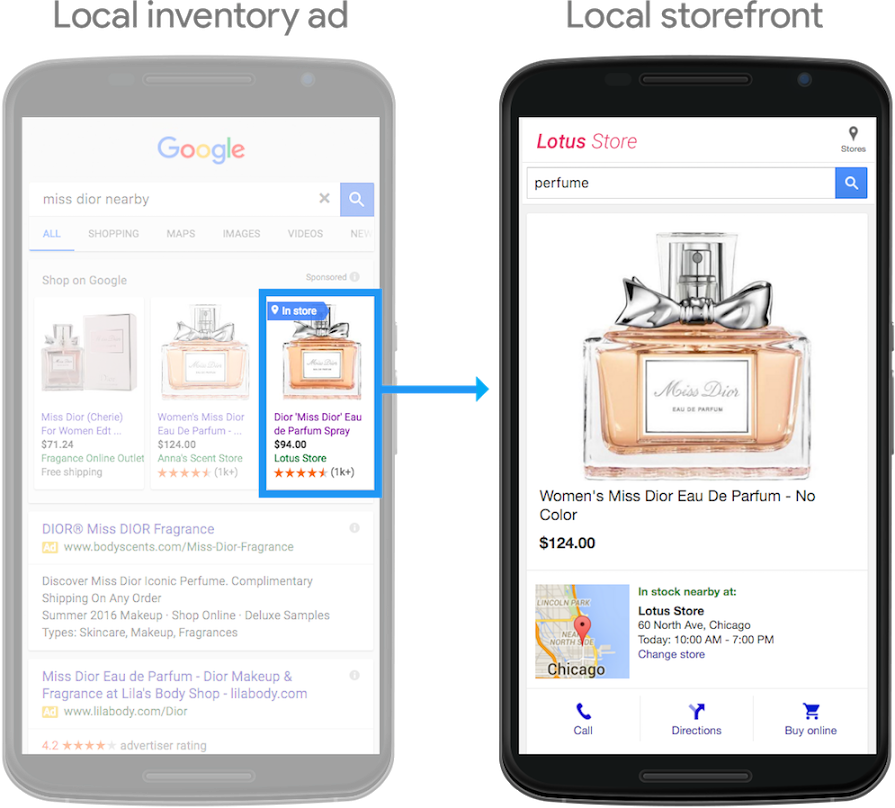 An example of the in-stock function integrated into Search[/caption]
To make sure products show up, retailers in the United States and Canada can sign up for Pointy from Google — free of charge and right from a business's GBP on Search.
"Pointy helps you automatically upload all your in-store product inventory by connecting directly to your existing point of sale system," Madrigal said. "If you already have a local inventory feed, you can submit your feed through Google Merchant Center. To showcase individual products, you can also manually add them to your Business Profile on Search."
Enhancements to Performance Planner and launch of Performance Max
Local businesses seeking to focus on store-specific goals such as promoting in-store products or seasonal menu items have been able to take advantage of Local campaigns for a long time.
However, Madrigal said it was now easier for local businesses to plan campaign budgets heading into the holidays using an updated Performance Planner.
"This tool helps you create plans for your local advertising investment, and see how changes to those plans might affect your outcomes and performance," he said.
While it's recommended that local businesses continue using Local campaigns to reach shoppers this season, they should start testing Google's new Performance Max campaigns before next year's campaign upgrades.
"Performance Max allows you to promote your business across all Google Ads channels to help you drive more foot traffic to your physical locations — and includes new inventory and formats not currently available in Local campaigns," Madrigal said.
Valuable resources to rank higher on Google
Google reaffirmed that local businesses should continue to maintain search engine optimization (SEO) best practices to ensure their GBP ranks favorably within local search queries.
Recommended Reading: Access our 98 Proven, Actionable, SEO Tips for an in-depth exploration of the strategies, tools, and information necessary to reach the top search result in Google.
SMBs can also view Google's local holiday guide or the Google for Small Business holiday checklist for more tips and insights on maximizing selling opportunities during the holiday season.
Facebook Rebrands. What is Meta And What Does It Mean For Small Businesses?
Facebook Founder Mark Zuckerberg has announced the company will rebrand to Meta and foster massive eCommerce opportunities in the virtual world.
The move confirms his vision to shift the company's focus away from a social networking platform to one that connects people through virtual reality within an ecosystem known as the "metaverse." 
Like Alphabet's subsidiaries Google and Waymo, Meta brings together its apps including Facebook, Instagram, WhatsApp alongside the metaverse, which it is spending billions of dollars to bring to life.
"The next platform will be even more immersive — an embodied internet where you're in the experience, not just looking at it. We call this the metaverse, and it will touch every product we build,"
Zuckerberg said at the annual Facebook Connect event on October 28, 2021.
Facebook's share price closed 1.51 percent higher to $316.92 after the announcement.
This next section of this blog examines what the metaverse is and its potential implications for local businesses.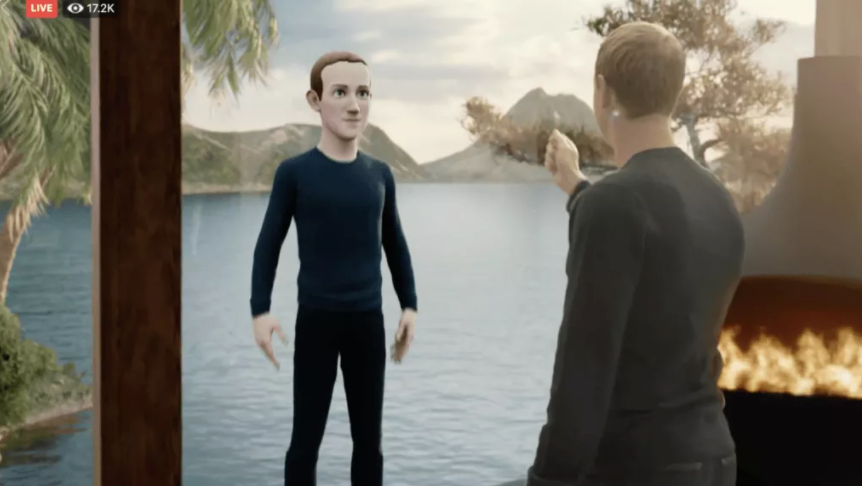 What is the metaverse?
Zuckerberg said the metaverse is the "next evolution" of how people will experience the internet.
In essence, this means individuals will each have their own avatars — an icon or figure such as those currently used in chat forums and video games — to represent them in a virtual world.
A person would use their virtual reality (VR) or augmented reality (AR) headset to control their avatar to interact with other people and businesses online in a more immersive way than currently possible.
Zuckerberg showed examples of how friends from across the world could connect and play chess, cards, surf, and cycle together in the metaverse. Rather than using a mouse or keyboard and playing games through a website or app, people would be able to move using VR or AR technology.
The metaverse also aims to blend in virtual and real-world experiences. For example, a person in California may be attending a rock concert in person and invite their best friend who lives in Japan to join them virtually.
Zuckerberg also intends for workplace collaboration to be a key pillar of the metaverse. Instead of virtual meetings that people usually attend using their respective laptops, a team could sit together in a virtual office using their avatars.
"The defining quality of the metaverse will be a feeling of presence — like you are right there with another person or in another place. "Feeling truly present with another person is the ultimate dream of social technology. That is why we are focused on building this."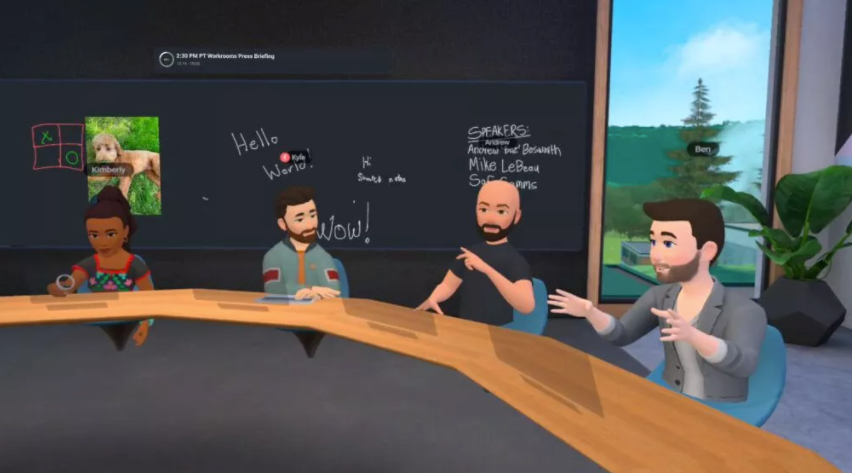 What does it mean for local businesses?
As with Facebook, Zuckerberg said he relied on a massive audience of social media users, local businesses, marketers, content creators, developers, and many other interests to make the metaverse economically viable.
This means allowing different parties to conduct many of their activities on Facebook and Instagram, including spending on digital advertising, enabling software developers to sell games, and collecting fees on eCommerce transactions.
According to Vishal Shah, Head of Metaverse at Facebook Reality Labs, the metaverse heralds an evolution in how people interact with businesses and advertising.
"Businesses will become creators and build out digital spaces. They'll sell both physical and digital goods, as well as experiences and services," Shah said.
"They'll be able to sell ads in far more contextualized and targeted formats to ensure the right customers find their products and services."
New business models
For instance, Shah said a local beauty business based in the United States could serve digital ads via the metaverse to people all over the world to attend a launch party of its new lineup of makeup products.
Interested consumers could attend the event as if they were there in the shop, interact with the owner and employees, and then purchase products for real-life use from within the beauty shop's eCommerce capability in the metaverse.
"The metaverse will remove many of the constraints that we see in commerce today and make entirely new businesses possible," he said.
He added local businesses could sell products for virtual use. For example, a local designer could create fashion garments for people's avatars and their physical bodies, creating two revenue streams from the one design.
While eCommerce and other concepts in a metaverse context are still in their infancy, Zuckerberg expects advertising and revenue opportunities for businesses to grow significantly over the next decade.
"We expect to invest many billions of dollars for years to come before the metaverse reaches scale," he said.
"We hope that if we all work at it, within the next decade, the metaverse will reach a billion people, host hundreds of billions of dollars in eCommerce, and support jobs for businesses, developers, and creators."
Conclusion
For now, we will have to wait and watch for more details on digital advertising and eCommerce business models in the metaverse.
But it may be worth having a conversation about what's coming and how your business could capitalize on opportunities in a virtual economy.