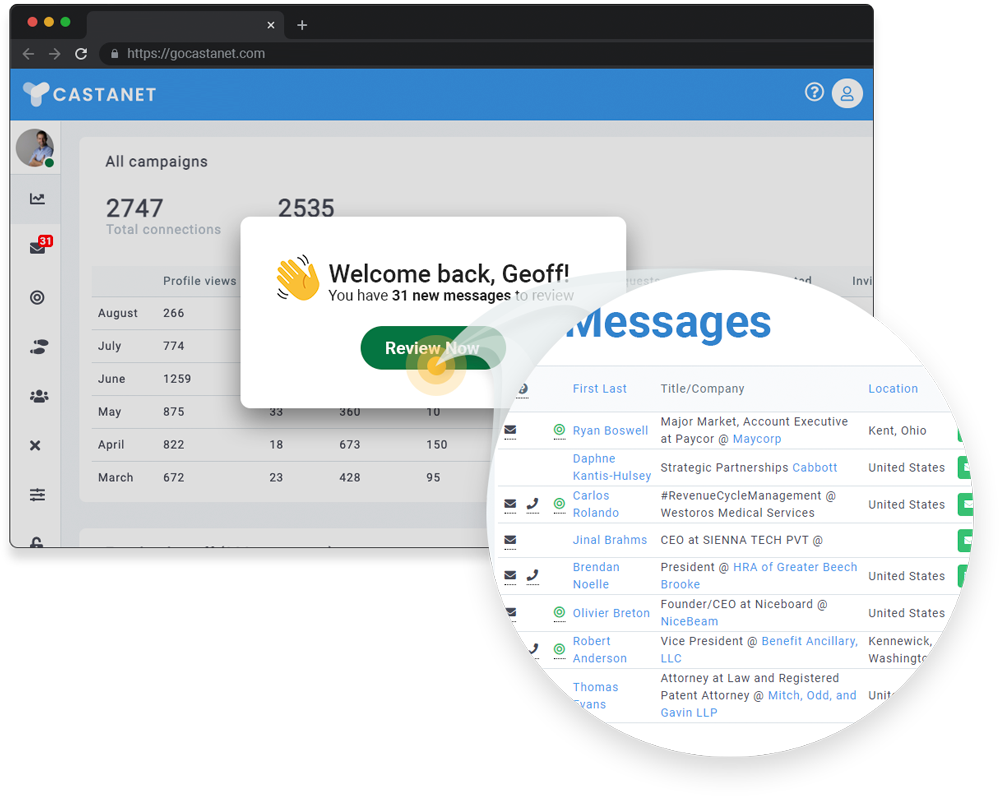 New to GREENstick Marketplace: CASTANET
We are introducing CASTANET: The industry leader in LinkedIn campaign management with over 2,750,000 new B2B connections generated!
Automate time-consuming LinkedIn prospecting tasks with CASTANET, new to GREENstick Marketplace! With more than 2,750,000 new B2B connections generated, CASTANET is the industry leader in LinkedIn campaign management. It does all the work for you – simply add your search criteria and messaging sequences once, and it will handle everything else.
Most marketers underutilize LinkedIn as a component of their awareness, lead generation, and relationship-building strategy. CASTANET built a tool to streamline the process and make it practical for everyone by targeting your ideal audience, setting customized messaging, and letting the system go. It views profiles, endorses connections, sends messages and connection requests, and much more.
CASTANET connects to your LinkedIn profile and helps automate connections and engagements using best practices to achieve optimal results.
Discover CASTANET today!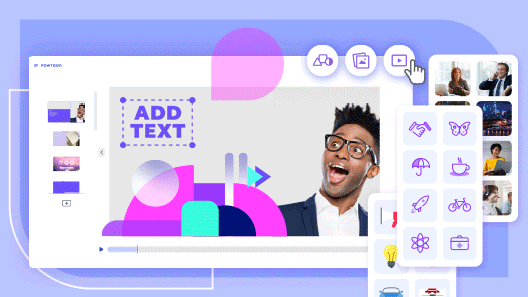 New to GREENstick Marketplace: POWTOON
We all want to save money! With Powtoon's affordable video creation platform, you can create professional videos in minutes. Don't pay thousands for other companies' services- turn yourself into the star of your show with GREENstick Now available here!
Users can choose from a range of over 200 ready-to-use templates and customize them with company branding, content, and visuals. With Powtoon, users also have access to a library of royalty-free music, objects, and videos to enhance their creations!
Discover Powtoon today.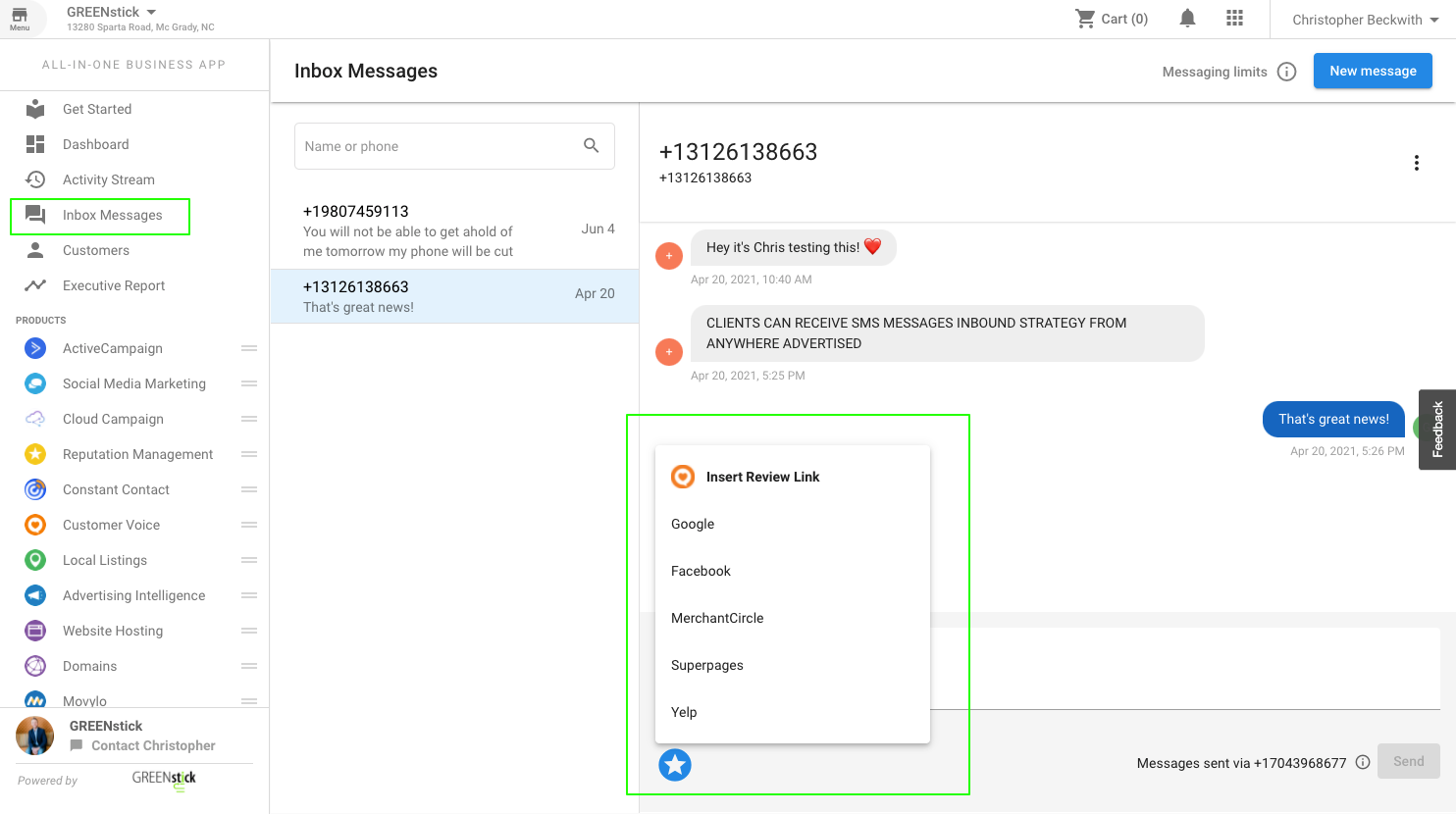 Inbox: Customer Voice Review Request Links Now Available
What is it?
Inbox in Business App users can easily access their review request links from Customer Voice when composing messages.
Why is it important?
With Customer Voice now available in Inbox Messages, local businesses have the flexibility to send a review request from their Inbox to their customers to help boost the business's online reputation.
How does it work?
Go to Business App > Click Inbox Messages > Open an existing conversation or create a new message.

Click on the review icon displayed below the message composer, and a list of available review request links will appear.

Select your preferred review link you want to insert in the message composer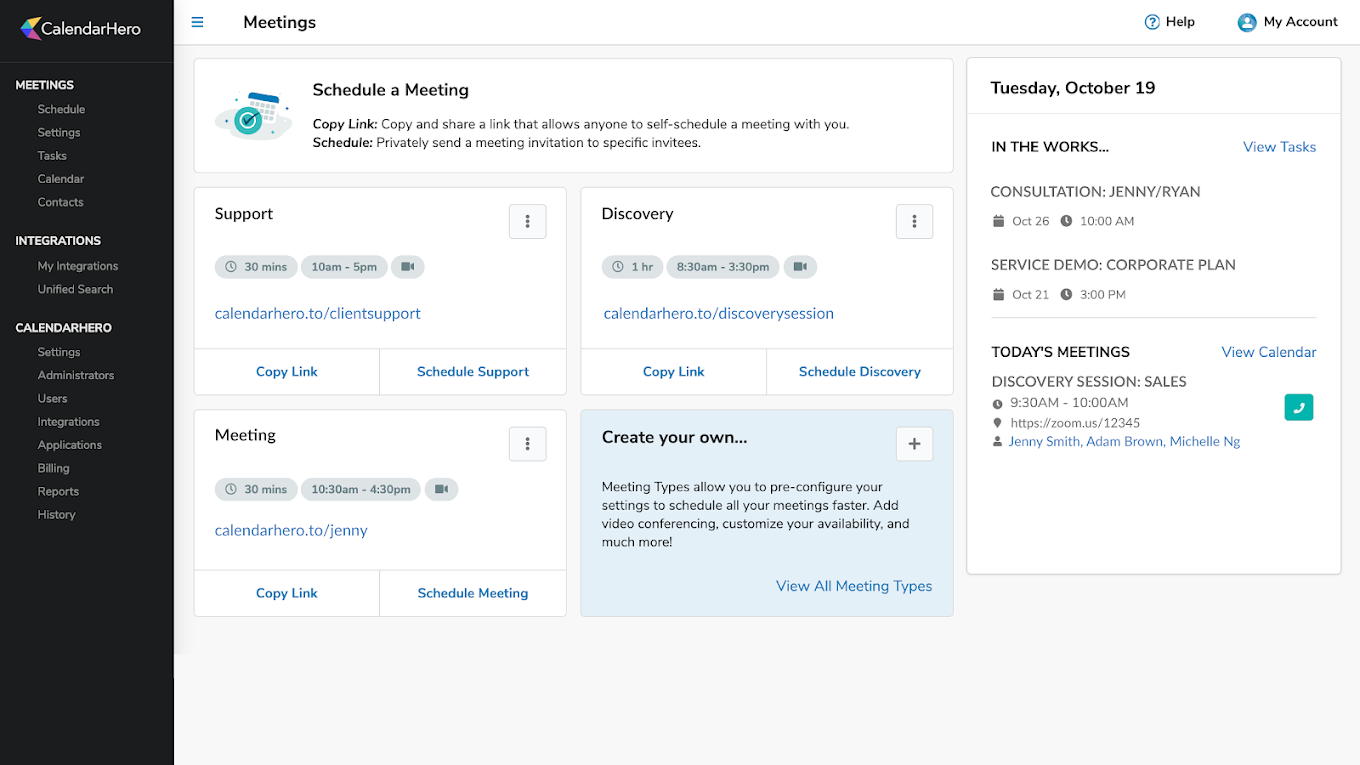 New to GREENstick Marketplace: CalendarHero
Simplify scheduling across your business: bookings, payments, reminders, and more. CalendarHero is an advanced meeting and appointment scheduling automation platform. Whether you're meeting in-person, over the phone, or hosting a session on Zoom — CalendarHero helps businesses simplify scheduling and engage with customers faster. Using our intelligent scheduling technology, you can ensure your business brings in more successful bookings, convert leads into appointments instantly, and never have to ask, "what time works for you?" ever again.
Discover CalendarHero today!
How can scheduling automation help your business?
There are so many ways! Are you tired of living in your inbox or wasting hours scheduling with clients and colleagues manually? CalendarHero intelligently syncs with all your calendars to let invitees self-book meetings or appointments using your real-time availability. This way, you and your invitees won't have to go back and forth to set up a meeting — we call that a win-win.
Next, you can embed CalendarHero on your website (no coding skills required) to capture leads the very moment they show interest. Instead of sending an email or filling out a form, CalendarHero's scheduler embed makes it easy for you to book leads on the spot and route them to the right person.
Plus, we have a host of features that help you do things like process payments, pre-qualify leads with invitee questions, serve customers remotely with video conferencing integrations, and create a dedicated scheduling page for your service offerings.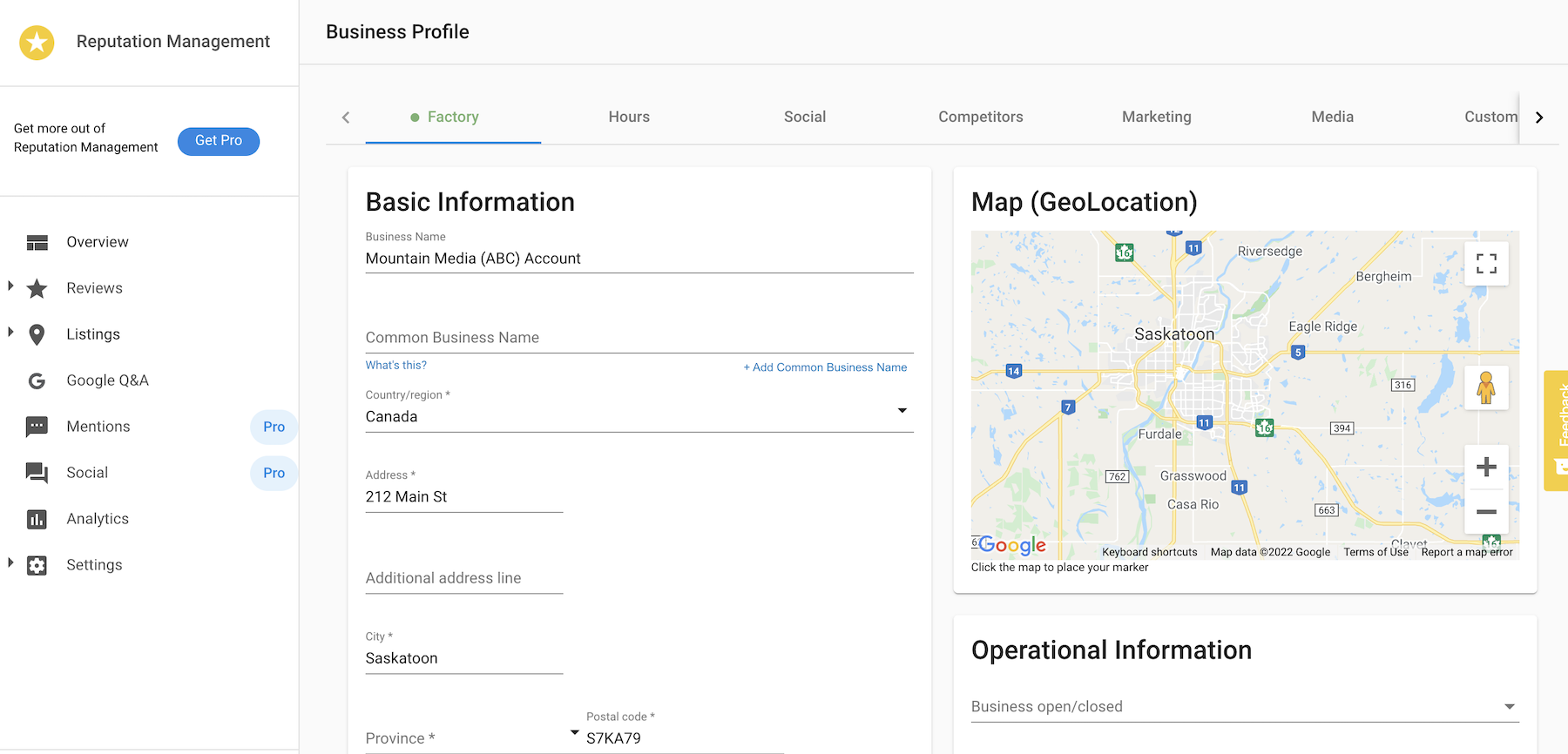 Reputation Management: Edit Business Profile within the Application
Reputation Management users can easily edit and update their business profile information without being redirected outside of the application.
Makes editing the business profile information even easier and quicker with an edit link right on the Primary Listings page within Reputation Management. Users are no longer redirected outside of the application to make updates to business profiles.
How does it work?
Go to Business App > Reputation Management > Listings > Edit to open the business profile and update the information as necessary.
When done updating just click the "save" button at the bottom of the page.