Our Services
Digital Marketing
Get a team of marketing strategists to fulfill marketing services as a true extension of your unique brand.
Your Brand's Secret Weapon
It's challenging to keep up with the ever-changing digital marketing services landscape, but our certified marketing strategists are here to help. We'll work with you to manage your listings, reviews, social media, advertising, websites, and content creation.
Marketing Services is fully integrated with Green Stick's marketing platform. You'll have access to a powerful dashboard with all the reports for your marketing services in one place. Our Executive Report gives your business the ability to track all the work completed on your brand's behalf.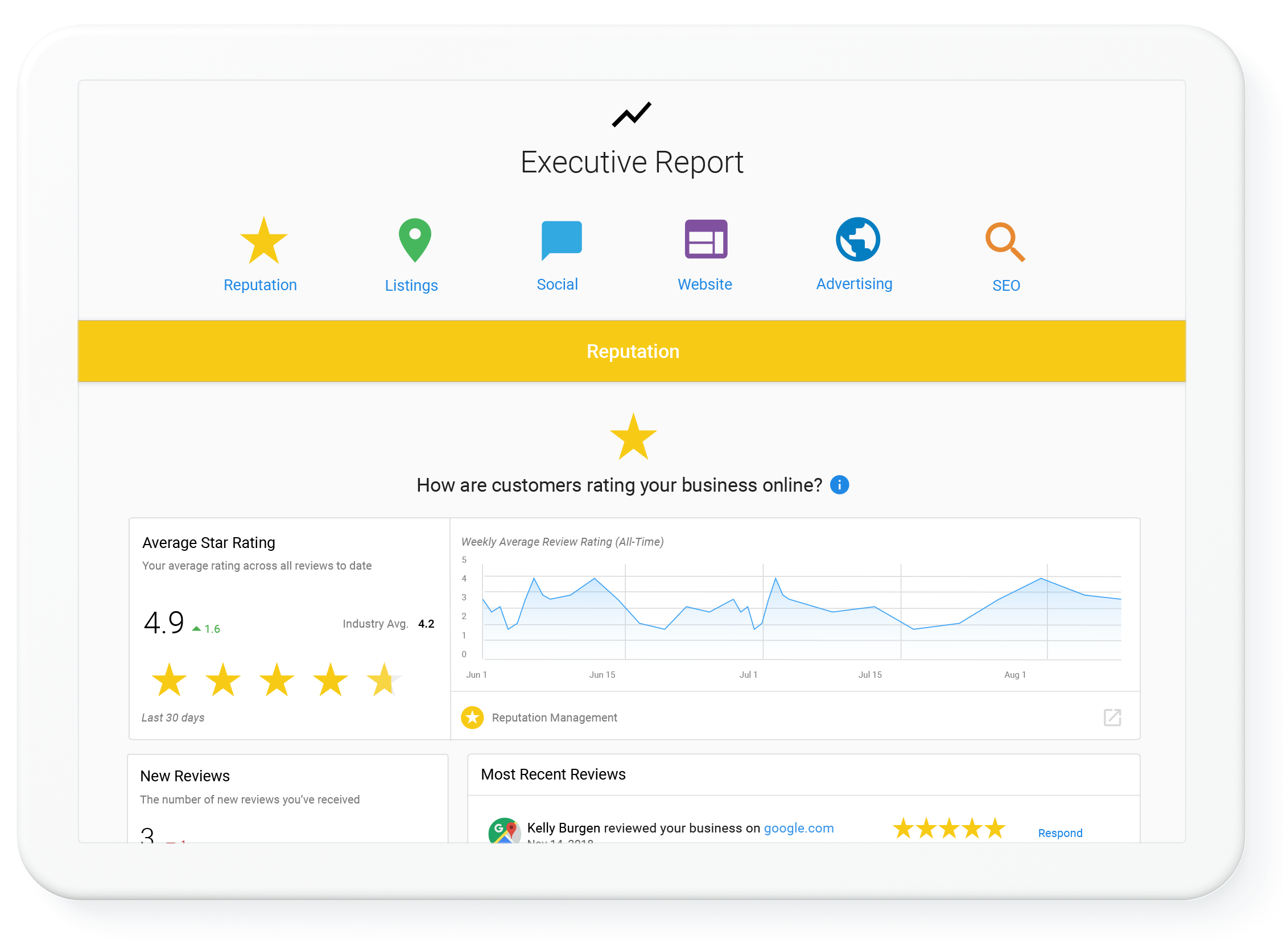 Marketing Can Be Overwhelming. The Good News Is, You Have Options.
Let us know what you need designing, and our professional design team will provide world-class design services that will keep your customers coming back!
Learn More
Unlimited revisions until you're delighted and ready to take on competitors. We have a team of Corporate Branding experts that will personally work with you to ensure that your designs reflect your corporate vision. We know how important branding is and will ensure your complete satisfaction.
A solid social media presence can help your business engage with customers, but writing great content is much harder than it looks.
Learn More
Green Stick's Marketing Services team has creative writers who are experts in social media. We'll work with you and your team to find the right tone and craft social posts that promote your business. 
Advertising Intelligence brings your advertising campaigns under one roof and provides a real advertising ROI for your business. 
Learn More
Smart comparison tools help you uncover recipes behind rockstar campaigns, pinpoint what's really making you money, and see the big picture of your advertising efforts.
Ideal for businesses that want to establish local online visibility for the geography where your business is located.
Learn More
Green Stick powers hundreds of business SEO campaigns to first page results. With our best in class technology and dedicated staff, we allow companies to focus on running and building their businesses. The vast majority of consumers search on Google before making a buying decision. We give small to medium businesses and franchises the visibility they need on desktop and mobile searches. 
It is in your best interest to be helpful and deliver valuable information to your customers. 
Learn More
At Green Stick, we have a team of fantastic writers that can create blogs and email campaigns with industry-focused content. We know it's not easy to find good writers out there; you'll be impressed with the quality of our work. 
Need help? Before taking full advantage of the solutions you've purchased, it helps you get acquainted with all of their features and benefits. 
Learn More
Over a virtual screen share, a marketing strategist will walk you step-by-step through your online dashboard and will showcase all of the products you've purchased. 
Learn More
If you don't have time or staff to build websites on your own, handoff works to Green Stick Marketing Services. We have a proven process to make your business's website look great and load fast from landing pages to eCommerce. 
Learn More
Whether you're new to email marketing or an experienced marketer, it's nice to have an expert on your side. Meet with a dedicated Marketing Manager every month for the support needed to grow your business.
Let's Get Started
Ready To Make a Real Change?