What is it?
On February 6th, 2023, Google stopped supporting APIs that power our Google Insights data and countless other 3rd-party companies using Google to power their data. These changes have affected multiple areas in the platform: Listing Builder, Social Marketing, Multi-Location, the Executive Report, and the Google Business Overview page in Business App.
Google has since extended the date to sunset these APIs to March 30th, 2023, but the support for these metrics ended on February 6th. This means that any historic data for these metrics will not populate after February 6th.
The following metrics are no longer supported by Google and will not be available to view or download after March 30th:
Search Types; found in Listing Builder, the Executive Report, and Multi-Location
Photo Views; found in Listing Builder, the Executive Report, and Multi-Location
Photo Quantities; found in Listing Builder, the Executive Report, and Multi-Location
Post Performance; Reach, Engagement & Posts for Google Business Profile, found in Social Marketing
Please note that all other metrics not listed above will remain in the platform and have now been migrated to be supported via Google's new API. Historical data for these metrics can still be viewed until March 30th, 2023, but only historical data from February 6th will populate.
When will it take effect? 
Effective March 30th, 2023 (previously February 20th), this data will no longer be accessible in the platform. You are encouraged to download any historical data you wish to have access to until that date. Please note that Google stopped supporting this data on February 6th, 2023, so historical data will only be available to view up to February 6th, and the data may sometimes lag.
We've since powered the insights data in the platform with Google's new APIs and backfilled the new data being fetched to February 8th, 2023. With the new API, Google has changed how they define some of its metrics.
For example, profile views are now defined as:
"Users who viewed your profile: Number of unique visitors to your profile. A user can be counted a limited number of times if they visit your Business Profile on multiple devices and platforms such as desktop or mobile and Google Maps or Google Search. Per breakdown device and platform, a user can only be counted once a day. Multiple daily visits aren't counted.
Since this metric represents the number of unique users, it may be lower than the views you find on your Business Profile and in email notifications.

Since the metric focuses on views of the Business Profile, as opposed to overall views of the Business on Google, it may also be lower than the number of views you find on your Business Profile and in email notifications."
Coming Soon 
Coming soon to Listing Builder's Google Insights page will be Searches breakdown. This new metric will give clients insight into the search terms that show their Google Business Profile in the search results, providing insight into their SEO and the keywords that help them get found.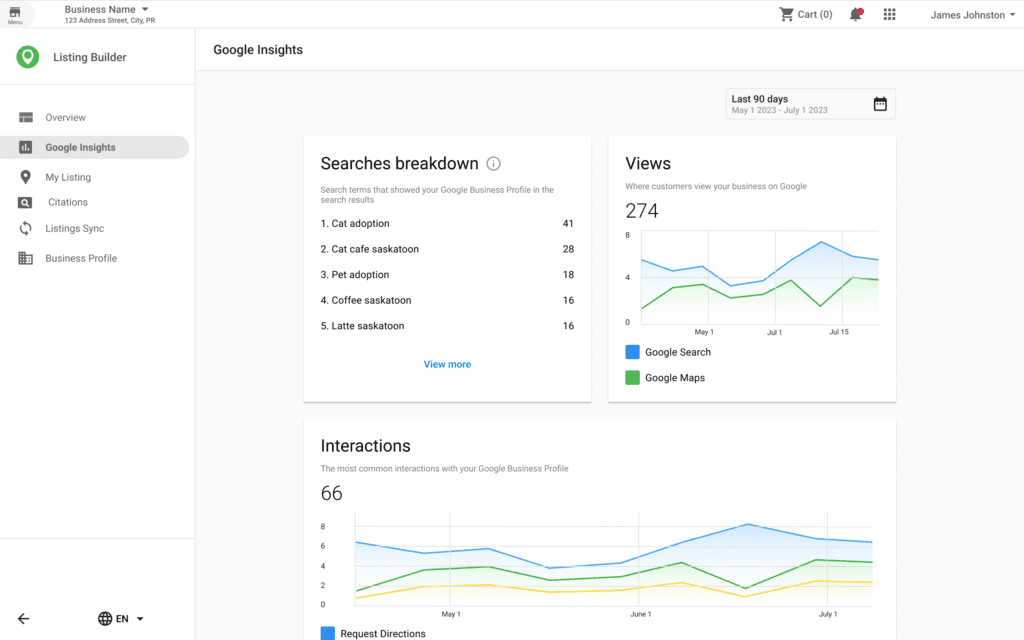 Why am I seeing Google's data populate with zeros in the marketing funnel?
There can be a couple of different reasons why you may see your data populated with zeros.
Either:
a) The date range you are looking at may have no views to showcase.
b) There is a known delay for Google to return data results for the most recent days. Even when accessing  Google Business Profile natively, you can expect to see data populated with a ~5-day delay.
We will monitor this data closely over the coming weeks and will communicate updates, as needed if a continued delay is to be expected.