Since September of 2017, Cheyenne has been working in the fashion world, focusing specifically on marketing and events, even partaking in New York Fashion week for a few seasons. Also, she has worked with early-stage start-ups to Fortune 500 companies.
Originally from Phoenix, Arizona, Cheyenne moved to Israel in 2012, where she lived for five years. During her time, she lived across the whole country, learned Hebrew, and enjoyed the Israeli lifestyle.
Cheyenne is working out of New York City, and when she isn't working, she enjoys discovering the best local places to eat and has recently started taking up baking (as most have in 2020).
In Cheyenne's new role, her skills and eagerness for growth will cultivate a strong foundation and strategic approach to digital transformation for our amazing customers, continuously optimizing ROI, and managing and developing Green Stick's sales and marketing efforts. 
"Ever since Cheyenne started our professional journey together, I have been incredibly impressed with the contributions she brings to our agency and our customers. Our Community, which is based on values we mutualy share, allows Cheyenne to continue developing her unique brand, both professionally and privately. I'm undoubtedly convinced that with Cheyenne at the helm of our strategic team, she and our Community will continue developing new superpowers and results for our valuable customers." – Chris Beckwith-Taylor, Founder & Chief Strategist.
Email Cheyenne to congratulate her and wish her a warm welcome to our Community! cheyenne@greenstick.io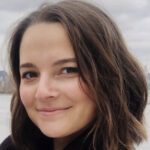 Cheyenne joined the Green Stick in January 2021
---
About Green Stick: After 15-years of frustration, founder Chris Beckwith-Taylor started to deliver business owners and marketers a solution! After monitoring, managing, and tracking marketing investments for a range of companies across multiple online accounts and dashboards, a new solution was delivered. In 2019, Chris launched the Green Stick App. An open-source business marketing platform with a design to simplify digital transformation and optimize each of their customers' online web and social media presence. To help business owners and marketers successfully run their businesses during these challenging times, Green Stick has identified three core strategies that will help any business grow; BE HEARD, BE SEEN and TRANSACT NOW.