SEARCH ENGINE OPTIMIZATION
Rapid SEO Results In 60-Days
Your business blooms on the search and social with our full-service onsite and offsite custom SEO—code edits, Content, Link Building, and Reports that prove real value to your business.
Increase Visibility with Your Trusted Search Engine Optimization Agency
Search engine optimization (SEO) is at the heart of any successful digital marketing campaign. With the right team behind you, you can ensure that your business is always visible within your target market. Looking for SEO specialists? Look at the team at GREENstick. We have extensive experience creating highly effective campaigns that drive success for businesses within any industry and have worked with over 500 small businesses around the country. We are perfectly positioned to create success for your brand while maximizing your bottom line.
What is the Difference Between On-Page vs. Off-Page SEO?
Both on- and off-page SEO is required in a successful SEO campaign. At GREENstick, we inject local and national SEO keywords into your online spaces, such as your website, social media sites, and business directory listings, to increase your rankings on search engine results pages. Our off-page techniques involve optimizing external elements, including link-building, content marketing, and more. When combined, your strategies have the power to maximize visibility so that your potential customers can always find your brand.
Schedule Your First SEO Consultation in Charlotte Today
With the team at GREENstick, you can transform your online presence with a custom solution created with your goals in mind. To find out more about our services, reach out to our team today by emailing us at marketing@greenstick.io.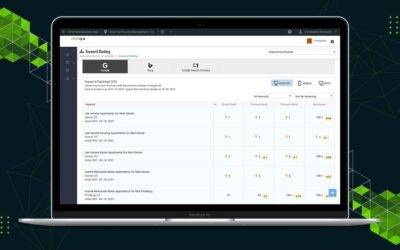 Affordable Housing SEO Case Study There's no doubt that search engine optimization (SEO) is a critical component of any business owner's marketing strategy. And when it comes to affordable housing SEO, property managers and developers need to make sure they're doing...
Schedule a free SEO consultation
Contact our team of experienced SEO specialists for a consultation and we will provide you with the most comprehensive online ranking analysis in order to get your business on top!
Frequently Asked Questions
What is on-page vs off-page SEO?
Any work that's done on the actual site such as, titles, tags, descriptions, content, website structure, etc., is known as On-Page. Any work not done directly on the website, such as blog writing, link building, social sharing, bookmarking, various content and more is known as Off-Page.
Can anyone guarantee first-page rankings?
No one can guarantee exactly where they will rank, but someone's business is taking up the first page search engine real estate. By doing the right SEO work, at the correct pace, and in the proper manner, clients should expect great results.
What's the connection between GMB and Local SEO?
Google Business Profile is like a directory which maintains key business information such as name, address, phone, hours of operation, map, photos, videos, categories of business, forms of payment, etc. Google gives prominence to these listings and they show up on Google SERP's and Google maps, both on desktop and mobile. Hence having a fully completed and verified listing is very important and helps with rankings.
What is guest blogging?
Writing interesting content on a guest blog is valuable to improve rankings. When the owner of the guest blog likes the content being written, they often include it on their own blog because they see its value to their visitors. This in turn can provide a backlink to our client's website.
Should I do SEO if my website already ranks?
Absolutely! SEO is dynamic. Search rankings and results shift and change. What works today, may not tomorrow. Google is constantly updating and refining its algorithms. Also, as competition increases it's important to stay on top of SEO so your website continues to be relevant. Good websites are doing SEO constantly to maintain and continue improving their rankings. You may rank for your core terms, but it's important to rank for secondary and tertiary terms as well.
What's the difference between Local & National SEO?
If a business provides services nationwide it may try to rank for just the keyword. If it's a local business it would try to rank for the keyword + the geography. So for e.g., a national chain of plumbing supplies provider would want to rank for 'plumbing supplies', while a local store that serves just Washington DC would want to rank for 'plumbing supplies DC'. Local SEO is intended to get customers who live in the area to support that local business.
What are backlinks and why are they important?
These are links done offsite that signal search engines to the targeted website. There is a lot that goes into backlinking safely. The days of mass link building and black hat SEO are over. At SM, we take time and make sure the backlinks come from relevant sites that are true to the business. By doing strong backlink work, the client's website should rank higher than their competition who is solely focused on on-page work.
What happens after I place an order for SEO?
1. Order confirmation and welcome email within 24-hours
2. Access check-up and keyword analysis within 5 business days 
3. Dashboard set-up and Google accounts integration within 10 business days
4. After 1 month, you will get your first report! The report will include all the work completed, benchmarks, and new rankings. You can also access the data via the SEO dashboard in real-time!